Awa Paper Mfg. has been running the business supported by abundant water and mountain forest resources since its establishment.
Our lives are also built on coexistence with nature through the use of natural energy resources of coal, petroleum, and natural gas. However, an increase in fossil fuel use due to the increase in the global population has an influence on the global environment. We have to become aware of this situation and protect the privileged natural environment of the Earth by any means.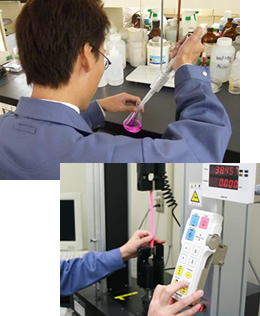 For this purpose, we strive for the realization of a sustainable recycling society by developing functional materials for our current core products and by developing renewable biomass resources, inexhaustible solar energy sources, and unused marine resources.
In order to solve the universal issues of air pollution, water pollution, and energy problems, we work on the development of functional materials using Awa Paper core technologies, and we will continue to contribute to the future society through the development and manufacture of products meeting new market needs aimed at harmony with the environment.