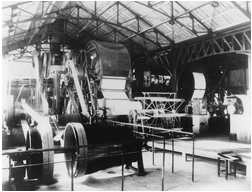 In 1916, Awa Paper Mfg. was established as the first machine-made Japanese paper manufacturer with support from major business leaders in Tokushima centering on the indigo business, which was a major local industry. We promoted the development of Japanese paper applications while producing thin paper for Japanese writing and tissue paper.
As it is said that "paper is a barometer of culture," paper use was increasing dramatically at that time, and it was too difficult to make a large amount of paper by hand. Shifting to mechanical papermaking enabled us to supply paper with stable quality at low prices. As a result, machine-made paper has gained wide acceptance.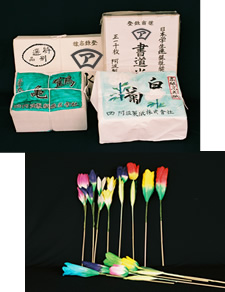 After the Pacific War, there was a change in the environment in that our lifestyle was Westernized and the Japanese paper business declined, although it had been expanding satisfactorily until then.
In such a situation, we received an inquiry from a chemical manufacturer about base paper for celluloid. We believed that the niche market for special paper, which was neither Japanese paper nor general paper, was the way we lived and had the potential of success, and we introduced new technologies for manufacturing cotton linter pulp to start the development and production of special paper, including base paper for celluloid.
After that in order to enhance the development of applications of special papers using cotton linters, we developed special paper as base papers for parchment and bakelite after a process of trial and error and then transformed our business from the Japanese paper business to the special paper business.