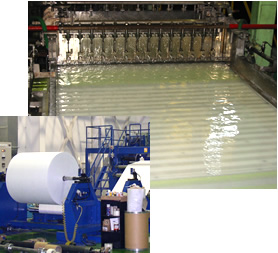 After transforming the core business from the Japanese paper business to the special paper business, Awa Paper Mfg. accepted the challenge of manufacturing using leading-edge papermaking technologies. With no fear of risk in order to realize paper that exceeds paper that could not be achieved by conventional papermaking technologies, Awa paper takes advantage of proprietary papermaking technologies and diverse information on materials cultivated through the manufacture of Japanese paper over the years using sophisticated chemicals and new materials created by the petrochemical industry.
As a result, we succeeded in creating special paper for household products, building materials, and electric markets: base paper for mosquito-repellent mats, non-flammable paper for building materials, and base paper for separators for storage batteries.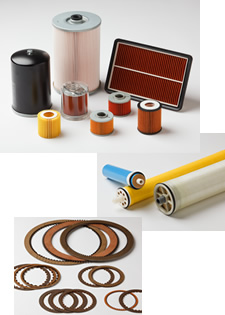 Furthermore, in order to meet the high functional requirements of filters for engines, separation membrane support medium paper, base paper for friction materials for clutch plates, and the cutting-edge growth industry, we evolved our business into the development of high-performance special paper for our present core products by making a prior investment in resin impregnation and hot-pressing equipment to use advanced processing technologies.
The high-performance special paper is useful in the automotive and water processing industries as global products that contribute to the resolution of environmental problems of air and water pollution.