CARMIX CFRP (Carbon Fiber Reinforced Plastic)
Click here for other CARMIX products
CARMIX CFRP is a product (prepreg) made by processing a sheet developed using our carbon-based material papermaking technology.
CFRP (carbon fiber reinforced plastic) is made by blending carbon fibers into plastic to improve the strength. CARMIX CFRP is a prepreg precursor of CFRP manufactured only in the papermaking process by mixing carbon fibers with thermoplastic resin fibers using wet papermaking technology. We succeeded in creating inexpensive prepreg for CFRP by making a prepreg in one process and using carbon fibers (remaining material). In addition, hot press-molding by lamination or high cycle press-molding using a mold produces 3D parts with superior isotropic strength property in three-dimensional directions, leading to a reduction in molding costs.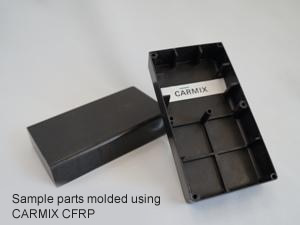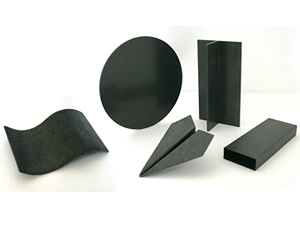 Application and actual achievement
Example of application
Various kinds of lightweight materials for structural members that are light in weight and require strength for small industrial parts.
* Applications are under development at present and the use of this product on is now being considered.

Feature
Lightweight and high strength
Comparison between bending stress and specific gravity
| | | |
| --- | --- | --- |
|   | Bending strength (MPa) | Specific gravity (g/cm3) |
| Iron | 400 | 7.8 |
| Aluminum | 150 | 2.7 |
| CARMIX CFRP | 250 | 1.1 |
* The above data are measured values, not guaranteed values.
The strength of carbon fiber sheet is equable because the uniformity is high.
High workability
Since the length of carbon fiber is short, this product is expected to be used as a process material with less strain on the cutting tools in hole processing and cutting work.
High yield
The carbon fibers contained up to the end faces prevent the disengagement or breakage of the end faces, resulting in high yield of prepreg.
Maintenance-free
This product can be used under atmospheric conditions because this product does not rust.
Possible to provide various functions
Not only strength and electric properties of carbon material but also different functions can be provided in the sheet creation process.
High shape retention property
The characteristics of carbon fiber are expected to cause less heat shrinkage and provide stable shape retention properties.

Frequently asked questions
Is the standard product available?

Although we are in the process of the determination of optimized specifications at this moment, we can respond to customer needs individually. Please contact us for details.