Submerged Membrane for MBR (Membrane Bioreactor)
 Click here for other M-fine products
"M-fine" is a submerged type membrane unit for MBR that employs flat sheet membrane
with a unique structure which has various advantages compared with a conventional flat membrane unit.
Comparing to a conventional activated sludge process, the MBR system does not require the installation of a settling tank because treated water is directly sucked from the activated sludge tank through the membrane. For that reason, the MBR system can reduces the space and maintenance costs, and makes highly-cleaned water which can be directly re-used certain purposes.
Facing the problem of global water shortage, we hopes to contribute to preservation of water resources and effective re-use of water by means of this membrane unit.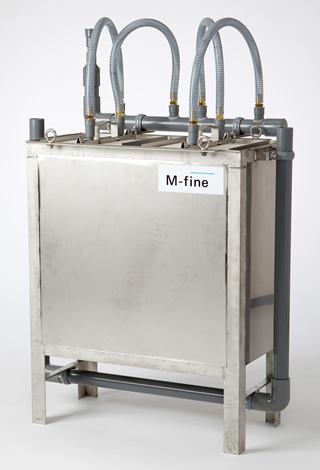 Application and actual achievement
Application
Wastewater treatment [Membrane Bioreactor (MBR)]
Actual achievement (as of March 2013)
For foods: 28 MBRs
(in noodle-making and cooking oil factories)
For wastewater processing: In Japan: 11 MBRs, Overseas: 8 MBRs
(for dye houses, human sewage and various kinds of experiments)

Feature
Difference between conventional activated sludge process and MBR (Membrane Bioreactor)