NANOWOVEN (Nano Coat Filter Media)
NANOWOVEN is our unique high-function filter media (filter element) where the base material is combined with a nano fiber web.
An air filter made from this product captures extremely fine carbon dust, which is approximately 50 percent higher than that of conventional filter media (filter element) for engines, and it has also achieved twice the service life.
This product will be used in a wide variety of applications to correspond to the need to reduce the environmental load and for high functionality.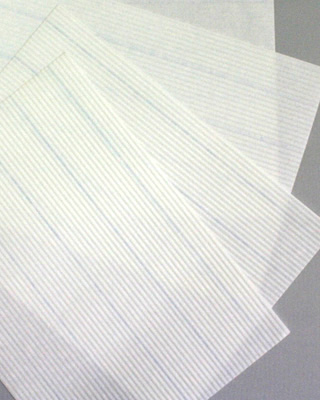 Application and actual achievement
Example of application
Filter for engines, industrial filters, and household filters
Actual achievement
Filter media (filter element) for the TASCAL dry-cleaning filter
[AOI Corporation]
With high capturing performance, this filter eliminates the solvent dullness caused by insoluble material to achieve a high quality wash with clean solvent.

Feature
Surface structure
Image of filtration
For air filters
NANOWOVEN is superior in terms of the amount and efficiency of capturing particulates compared to existing filter media (filter element) and demonstrates the following features:
Possible to be made thin (Since the airflow resistance can be maintained, the engine output is expected to be increased.)
Reduction in cost is expected
A reduction in environmental load is expected due to the contribution to the improvement in fuel efficiency and the enhancement of element life.
For fuel filters
NANOWOVEN can also be used in fuel filter applications, because production by usage of resin (as coating material) with high chemical and heat resistance is possible.
This product achieved higher efficiency than conventional filter media (filter element), and we are in the process of finding a way to eliminate the use of inorganic fibers.
This product achieves high performance and a reduction in environmental load.

Frequently asked questions
Can you mass-produce this product?

Yes, we can. Please contact us for details.

Can I get a sample?

Yes, we can provide a sample cut in A4 size if needed.