Glass Fiber Paper
Glass Fiber Paper causes little expansion and contraction due to changes in humidity or temperature and has excellent dimension stability, heat resistance, and thermal insulation properties.
This product is available in two types: one composed of glass fibers (excluding binder) and one with blended pulp.
This product is used in a wide variety of applications, such as composite material for floors and heat-insulating surface material.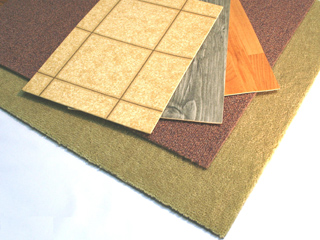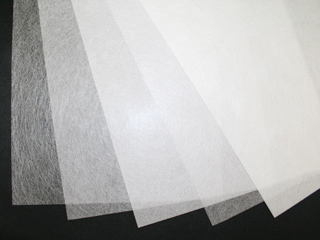 Application and actual achievement
Example of application
Tile carpet (Core)
Cushion floor
Non-combustible wall material
Non-combustible decorative sheet


Feature
Dimensional stability
Heat resistance
Thermal insulation property
High strength
Representative Physical Properties
Sample name
Binder
Basis weight
Thickness
Density
Tensile strength
(T/Y)
g/m²
mm
g/cm³
kgf/50mm
A
Acrylic/PVA
27
0.23
0.12
16.0/9.0
B
Acrylic/PVA
40
0.30
0.13
26.0/11.0
C
Acrylic/PVA
30
0.24
0.13
20.0/11.0
D
Acrylic/PVA
78
0.58
0.13
38.0/22.0
E
Acrylic/PVA
40
0.25
0.16
18.0/10.0
F
Acrylic/PVA
50
0.33
0.15
30.0/13.0
G
Acrylic/PVA
60
0.38
0.16
26.0/12.0
H
Vinyl acetate
30
0.23
0.13
7.0/3.0
* The above data are reference values, not standard values.
For details on samples, contact us at our inquiry center.

Frequently asked questions
Can I get a sample?

Yes, we can provide a sample cut in A4 or larger size if needed.

How much is a change in dimension due to humidity?

It is 1% or below, meaning there is little change.
What is the capacity of heat resisting temperature?

It is around 200℃, depending on products and the types of binders.Please contact us in details.

What are the capacities of glass fibers in diameter and length?

The dismeter of chopped glass fiber is 9-13μ, and the length is 6-25mm.

What is the capacity of basis weight?

It is 25-100g/m².