ALT (100% Polyolefin Sheet)
ALT is a sheet made of 100% polyolefin fibers.
This product is used in a wide variety of applications because it is tough and does not generate paper dust and raised fabrics but still has superior water, alkali, and acid resistance. In addition, it is also used for packing materials because it has a heat-sealing property yet allows air and moisture to pass through but not water.
Basis weight: Approximately 40~120g/m²
Thickness: Approximately 100~200μm
Width: Up to 1,100mm
(The basis weight and width differ depending on the conditions.)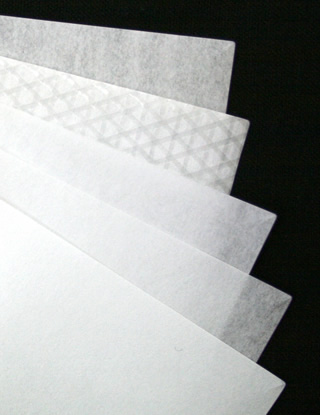 Application and actual achievement
Application example
Packaging material, map and poster
Packing material
Drying bag
High-strength envelope, shipping tag, and label
Oxygen enrichment membrane support medium
Sterile paper
House wrapping
The sheet made by combining ALT with polyolefin cloth can be used as a house-wrapping material placed between the exterior wall and heat insulating material.
Combining example
Bonding these materials together provides strength that can withstand long-term use.

Feature
No paper dust and raised fibers are generated.
Superior heat-sealing property
High whiteness and opacity (No filling material is used)
No moisture-absorption characteristics but dimensionally stable against moisture
Superior water, alkali, and acid resistance
Light in weight compared to general packing paper
Better uniformity than polyolefin nonwoven fabrics
Better air permeability than polyolefin films
Comparison between PURELY and ALT