CARMIX (Heat Radiation Sheet and Fin)
 Click here for other CARMIX products
Our heat radiation sheet and fins were developed from our papermaking and processing technologies and by taking advantage of high heat radiation properties of carbon materials.
These products are expected to be widely used for the parts that require countermeasures against heat, such as electronic components mainly made of metal at present and heat radiation parts of LED lights by taking advantage of its diversity unique to paper.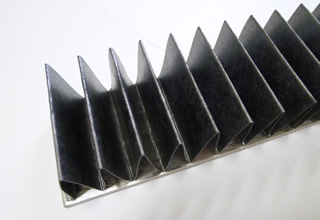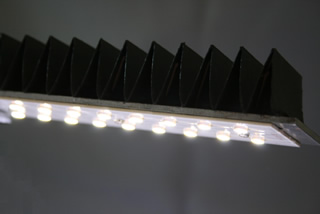 Application and actual achievement
Example of application
Heat radiation fins used in the heat radiation part of electronic components and LED lights
Example of actual achievement
LED lights for factories and bridges

Feature
The diversity made possible by paper-made sheets
Weight saving
Compared to metal fins, the weight can be reduced by approximately 80 percent. Using paper-made fins in LED lights for moving vehicles is expected to save energy.
Heat radiation property
Paper-made fins have the heat radiation property equivalent to that of metal (aluminum) fins. They enable to extend the service life of LED lights and other electric and electronic materials.
Flame resistance
Using our unique technology, we created flame-resistant heat radiation sheet free from halogen and heavy metal.
(Equivalent to UL94V-0)
Durability
A special processing enables to retain the performance equivalent to original performance even after long periods of time.
Workability
Paper-made sheets can be processed into various kinds of shapes through the folding, honeycomb, and corrugation processes.
Freedom of bonding face
Paper-made sheets can be used on the walls and ceilings in various shapes.
Example of the structure of a paper-made heat radiation fin
Comparison between our paper-made fin and aluminum heat radiation fin
Paper-made heat radiation fins can have the heat radiation effect that is almost equivalent to aluminum heat radiation fins because paper-made heat radiation fins have lower thermal conductivity but higher thermal emissivity than aluminum heat radiation fins.
Our paper-made heat radiation fin
Aluminum heat radiation fin
Heat radiation effect
Equivalent to aluminum fin
-
Specific gravity of material
1
2.7
Thermal emissivity
(thermal conductivity)
0.6[20~50W/(m・K)]
0.1>[230W/(m・K)]
Weight
Light
Heavy
Surface area
Both sides of paper can be used
Only the front side can be used
Formability
Easy to form and process
Molds are needed depending on the forming method
Comparison of heat radiation performance
Durability test

A durability test for 1000 cycles at -40 °C to 100 °C
* All data above are measured values, but not guaranteed values.

Frequently asked questions
Do paper-made heat radiation fins and sheets burn?

Yes, they burn. However, they have the flame resistance equivalent to UL94V-0.

What's the durability level?

In a durability test for 1000 cycles (-40 °C to 100 °C) using this sheet, no reduction in strength and thermal conductivity was observed.
Can your product have property of water resistance?

We can add cetrtain property of water resistance to our products with resin coating.

What is the capacity of heat resistance?

We assumed about 200℃ at normal condition when used.

Can you offer some samples?

Yes. We can send you sheet or folding samples.

How much is the cost?

We make an estimate every time because our products are custom-made.

Can we purchase your product in sheet?

We basically sell folded product. Please contact us if you need it in sheet.

How do you concern for the environment?

We have satisfied the conditions of RoHS Standard with harogen-free and lead-free products.