Plant Fibers

Plant fibers come from plants, and the plant fibers are processed for use in papermaking from pulp.
Pulp consists mainly of cellulose and is roughly categorized into two types: wood pulp and non-wood pulp.
Wood Pulp
Wood pulp is made from wood fibers from the xylem of wood. Wood pulp is roughly categorized into two types: needle leaf (softwood) and broad leaf (hardwood). Softwoods include the fir and pine tree families, and hardwood include eucalyptus, beech, birch, maple, willow, and rose apple families. In general, softwood tend to have long fibers, and the products made from long fibers tend to be stronger than those made from short fibers. Regarding the wood materials used in papermaking industry as raw material, due consideration is given to the global environment because waste needle leaf tree materials from lumbermills are utilized in a large portion and broad-leaf trees are planted in a systematic manner as tree-planting business.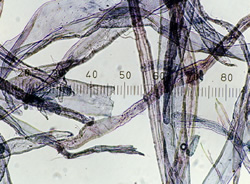 Non-wood Pulp
Non-wood pulp is made from seed fibers from vegetable seeds as well as bast fibers contained in the peel or stem. They have received a lot of attention as environmentally friendly materials and are available in the following types: cotton linter pulp made from linter (short fibers attached to cotton seed), hemp pulp (it can be categorized into several types depending on the type, characteristics and production area), bagasse pulp made from sugar cane trash, and kenaf pulp made from kenaf (a malvaceae).