Animal Fibers
Animal fibers are fibers from animals and consist mainly of protein. They contain not only silk fiber from silkworms and fur fiber from sheep wool but also collagen fiber extracted from animal skins, chitin from crustaceans, and shellfish like shrimp and chitosan made by deacetylating chitin.
Silk Fiber
Silk fiber is made from silkworm cocoons. The fiber has superior moisture-absorption and desorption property, heat retention property, and staining property.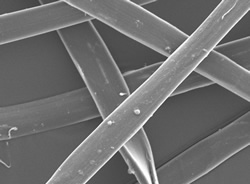 Sheep Wool
Sheep wool has superior heat insulation and heat retention properties.