Synthetic Fibers

Synthetic fibers are made from organic synthetic high-molecular compounds and are made synthetically from raw materials such as petroleum oil. Using this fiber alone or mixing it with natural pulp provides products with the useful characteristics of fiber.
Polyester Fiber (PET Fiber)
Polyester fiber is manufactured in the largest amount among synthetic fibers and is frequently used for paper. Polyester is a general term for a high molecule with an ester bond structure but refers to polyethylene terephthalate (PET) in the case of fiber.
It is characterized by high strength and superior heat and water resistance. We not only mix this fiber with other raw materials but also offer PURELY made from 100% polyester fiber.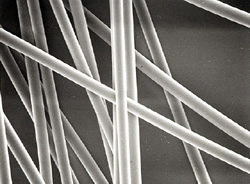 Polyolefin Fiber (Polypropylene Fiber, Polyethylene Fiber)
Polyolefin fiber is made from hydrocarbon-based high molecules like polypropylene and polyethylene. This material is characterized by extremely light specific gravity lower than 1 (approximately 0.90–0.96) and superior chemical resistance against acid and alkali. In particular, among composite fibers, core-clad fiber (sheath core fiber) whose core is made from polypropylene and clad is made from polyethylene and side-by-side fiber that consists of polypropylene and polyethylene approximately half-and-half are frequently used as thermal fusion bonding fiber. We not only mix this fiber with other raw materials but also offer ALT made from 100% polyolefin fiber.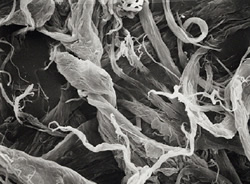 Acrylic Fiber
Acrylic fiber is a fiber made from polyacrylonitrile and is characterized by heat resistance, dyeability, dimensional stability, and chemical resistance. In addition, aside from acrylic fiber, modacrylic fiber contains only a low proportion of polyacrylonitrile and other raw materials to provide various functions (flame resistance, antimicrobial property and heat retaining property).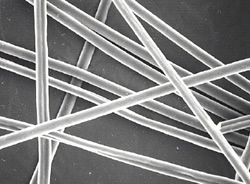 Aramid Fiber
Aramid fiber is a fiber whose molecular structure consists of aromatic series and amide linkage and is available in two types: para-aramid and meta-aramid. This fiber is characterized by high strength and modulus of elasticity as well as superior impact, wear, heat and chemical resistance. Therefore, it is frequently used due to its high functionality although it is expensive.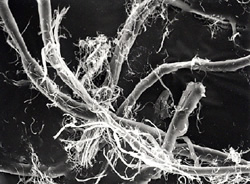 Vinylon Fiber (PVA Fiber)
Vinylon fiber is made from polycinyl alcohol. This fiber is characterized by light resistance, hydrophilic property, and adhesion property and is used in various paper fields.