Inorganic Fibers
Inorganic fibers are the fibers made from inorganic materials and are classified into the following categories: glass fiber, amorphous fiber like rock wool, carbon fiber, polycrystal fiber like alumina fiber, and monocrystal fiber like wollastonite and potassium titanate fiber. Amorphous fiber is high in strength even though modulus elasticity is low because there is no grain boundary. Polycrystalline fiber has superior heat resistance because it consists of small crystals. Monocrystalline fiber is extremely high in strength because of the whisker-like fine fibers.
Glass Fiber
The glass fibers mainly used for papermaking are the chopped strands with a fiber diameter of 6–20 µm and a fiber length of 3–25 mm with superior heat resistance and dimension stability. The sheets containing glass fiber are used for floor, insulation, and building materials due to their characteristics.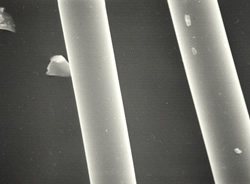 Micro Glass
Micro glass is a wool-like glass fiber with a fiber diameter of 0.1–3 µ. It is used for various types of filters, analytical-grade filter paper, and insulating materials.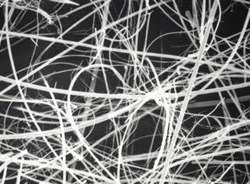 Carbon Fiber
Carbon fibers has following two main categories: PAN (polyacrylonitrile)-based type and pitch (petroleum oil and coal)-based type
The fibers are characterized by superior mechanical strength, modulus of elasticity, heat resistance, and chemical resistance. Their electric resistance and heat conductivity are similar to those of metals. Therefore, they are applied to electromagnetic shields, electrodes and heat-resistant structures through the use of their property of low thermal expansion coefficient.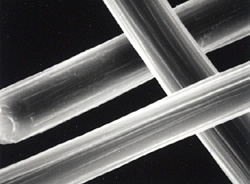 Activated Carbon Fiber
Activated carbon fiber is characterized by excellent absorption rate that cannot be achieved by granules and powders. This fiber is mainly used in filter applications because this fibrous form creates a sheet with low pressure loss.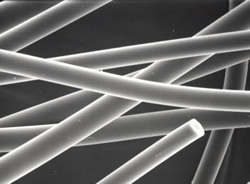 Meerschaum (Hydrated Magnesium Silicate)
The component of meerschaum is magnesium silicate and is equivalent to talc, but meerschaum has different molecular structure with micro-level fine pores. Since this material is in fibrous form, it is also effective as inorganic binder. This material has a large surface area and superior adsorptive property. Therefore, it is suitable for the adsorption to and deodorization of the substances with small molecular weight and polarity, such as water, ammonia, and hydrogen sulfide.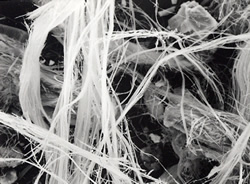 Potassium Titanate Fiber
Although potassium titanate fibers have needle crystals, it can have different crystal structures depending on the process of manufacture. The physical and chemical properties differ depending on the structure. When the fiber diameter is at submicron level, the strength of fiber is expected to increase significantly. This material is characterized by extremely low heat thermal conductivity and high electrical insulation properties in the high temperature range. Depending on the type of crystal structure, some are chemically active or have positive ion exchange performance. Through the use of such properties, this material is applied to heat and electric insulating materials as well as filters.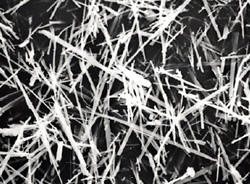 Ceramic Fiber
Ceramic fiber is a general term for artificial inorganic fiber that consists mainly of alumina and silica. Although the removal of granular shots that could not turn into fibers (non-fibrous granule) due to its process of manufacture is a bottleneck, this material is lightweight and flexible with superior heat insulation and resistance properties to withstand temperatures of 1000°C and higher as normal service temperatures. Therefore, it is used for sealing, packing, heat insulating, heat retention materials, and filters.
Wollastonite (Calcium Silicate Fiber)
Wollastonite is a natural mineral developed by being subjected to metamorphism at the point of contact between limestone and granite with a needle-like crystalline body. This material has attracted attention as an alternative to asbestos and has superior heat resistance and electric insulation property.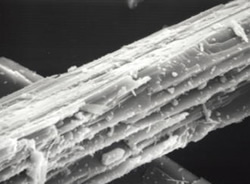 Rock Wool
Rock wool is created by combining iron-making blast furnace slag with silicate rock, basalt rock and lime rock for the improvement of the fiber property. This material has superior flame resistance, fire resistance, sound absorbing and insulating properties, and is generally used for heat retaining, heat insulating, and sound absorbing materials.