Carbon-based Powders
Carbon-based powders are generated by roast organic substances. The characteristics of carbonaceous materials vary depending on the type of organic substance and manufacturing conditions. This powder has superior adsorption properties for organic substances and excellent properties of thermal conductivity, acid and alkali resistance, solvent resistance, heat resistance, and lubrication. The powders are also characterized by their conductive properties, although they are non-metal and have attracted attention as future materials.
Activated Carbon
With an increased surface area as shown in the figure, activated carbon has higher adsorption and catalyst performance than other carbons. Activated carbon is made from raw materials with a large surface area, such as palm shell, coal, and charcoal, and its adsorption performance depends on the manufacturing conditions. This material in the liquid phase can be applied to the purification of impure substances and catalysts, and the one in the gas phase can be applied to the adsorption of odors and organic gases. Recently, this material is also expected to be applied to the resolution of environmentally hazardous substance materials and VOC.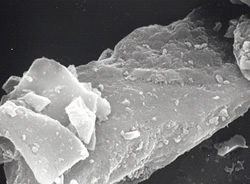 Charcoal and Bamboo Coal
Charcoal and bamboo coal are renewable botanical resources. They have the adsorption function equivalent to that of activated carbon because the structure as plants remains as a large number of pores even after the burning process. Because the coals with distinctive functions can be created by changing the burning method and temperature, the material will receive more attention in the future.
Graphite
Graphite is crystalline, although charcoal and coal are non-crystalline. Carbon has a hexagonal-like structure, and the crystals are shaped like flat scales as shown in the figure. Graphite has especially higher heat conductivity compared to other carbons, and the heat conductivity of highly pure graphite is equivalent to that of aluminum. Due to its structure, this material tends to break easily in the Z-axis direction, which is perpendicular to the hexagonal surface, and has a low friction effect.