Mineral-based Powders
Mineral-based powders can be classified into the following two types: powders based on natural minerals and powders based on artificial minerals manufactured through processing or synthesis. Natural minerals include calcium carbonate, kaolin clay, and talc, and artificial minerals include aluminum hydroxide and potassium titanate. When applied to paper, these materials are added through internal addition (added as a raw material during manufacturing process) or through the methods of size press, impregnation, and coating.
Diatomic Earth
Diatomic earth is ancient diatom fossils and can be classified into the following two types with different shapes: freshwater-based diatoms and seawater-based diatoms. They consist mainly of silica (SiO2) and are used in filters because they are porous as shown in the figure. Filling this material in paper with creates a sheet with low density and a lot of pores.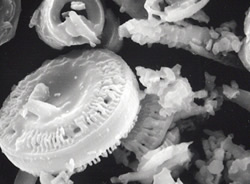 Talc
Talc consists of magnesium silicate, is shaped like hexagonal plates as shown in the figure, and contains crystal water. Also known as talky stone, this material is slippery and is used as an agent for enhancing smoothness. Incorporating this material creates products with high smoothness and heat resistance. Since this material is inexpensive, it is used as a loading material for paper coating.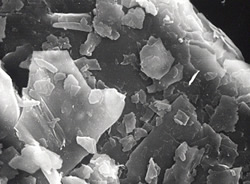 Calcium Carbonate
Calcium carbonate powder is generally transparent prism-like crystals used in printing paper because it enhances the visual quality of inks. This material has been utilized for coating to enhance the printing performance and as a filling material. Since this material is sensitive to acid, when this material is used as a raw material for paper, a fixing agent in the neutral pH range is used for fixation but not acid fixation using an acid fixing agent such as aluminum sulfate.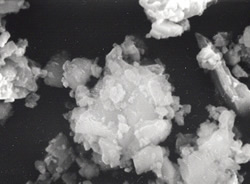 Aluminum Hydroxide
Gibbsite has the general molecular structure of aluminum hydroxide. The temperature of decomposition of crystal water is approximately 270°C, and this is similar to the initial combustion temperature of organic materials, such as pulp. Therefore, adding this material to paper for the endoergic reaction at the crystal decomposition temperature creates flame-resistant paper. In addition, since its surface electric charge is cationic, this material is fixed firmly to pulp in the water because it is anionic.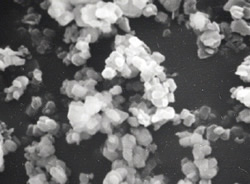 Titanium Oxide
Titanium oxide has been used as an agent to enhance whiteness and concealment and can be classified into the following two types: anatase type and rutile type. The anatase type has a little lower light resistance than the rutile type. Photocatalysts have been covered widely in the media in recent years as a product focusing on light resistance, which is a shortcoming of anatase-type titanium oxide. Photocatalyst-type titanium oxide has the property of decomposing organic materials and is used for environmental purification.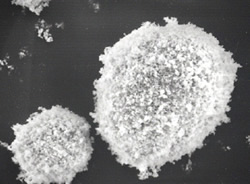 Vermiculite
Vermiculite is produced as altered mica. Through special high-heat processing, vermiculite expands and becomes a material with high porosity and low apparent density. This material is characterized by superior heat resistance, sound absorption, light in weight, moisture adsorption, positive ion exchange performance, wear resistance, acid resistance, and alkali resistance. The sheets are expected to be developed by using such characteristics.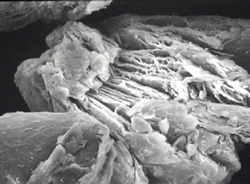 Zeolite
Zeolite is characterized by the property of absorbing polar gases and has excellent water vapor adsorption properties. For this reason, this material is frequently used for desiccants and humidity conditioning for air conditioning. In addition, this is also effective as a deodorant because it absorbs malodorous components like ammonia and sulphureted hydrogen. This material is expected be applied to papers through internal addition to pulp, as well as through secondary processing, such as impregnation and coatings.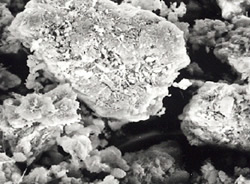 White Carbon (Synthetic Silica)
There are two types of silica: natural silica and synthetic silica. Synthetic silica is non-crystalline (amorphous) and has less of an impact on the environment in the exposure status compared to natural silica. Because this material has large specific surface area and low refractive index, it is used for printing papers (ink-jet printing papers) and is effective in showing brilliant colors of ink. In addition, fine-grained silica with large specific surface area is an ideal filtering material.