Analysis
We respond to a variety of needs including the identification of raw material, performance evaluations, and investigations of substances of concern by conducting analyses internally or outsourcing them to analytical bodies.
Scanning electron microscope (SEM)
This microscope is used to observe the surface condition or microstructure of products and raw materials, such as fiber and powder.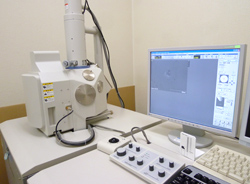 Ion chromatograph
This is a chromatograph for separating ionic substances, and we use it for the separation and quantitative analysis of inorganic ions in the extraction liquid of sheets.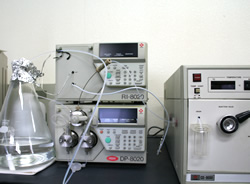 Gas chromatograph
This is a chromatograph for separating gas components, and we use it for the evaluation of gaseous adsorption sheets, and quantitative of the gas in the atmosphere.
X-ray diffraction analyzer (Outsourced)
This device is used to identify inorganic compounds (minerals) and organic compounds with a crystal structure.
Ultraviolet and visible spectrophotometer
This spectrophotometer is used to perform a quantitative analysis of solutions using ultraviolet light and wavelengths in the visible ranges, and to measure the transmission spectrum or the transmittance in the constant wavelength of film.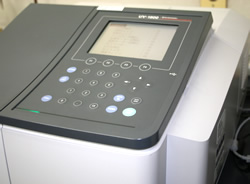 Infrared spectrophotometer (FT-IR)
This spectrophotometer is used to identify organic compounds and some inorganic compounds. This instrument identifies foreign substances, film, coating agents, fibers, and binders.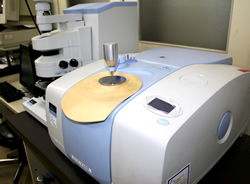 Differential thermal analyzer (Outsourced)
Measuring the differences in temperature or energy from the reference material by heating or cooling under adjusted conditions provides information on the thermal stability, melting point, and glass-transition temperature of organic and inorganic compounds.
GC-Mass (Outsourced)
This analytical method combines gas chromatography and mass analysis for the identification and quantitative determination of mixtures. The method is used for the identification of gases generated from paper and the evaluation of chemicals for paper, such as binder.