Coating
Awa Paper Mfg. applies coatings using the comma direct, comma reverse, kiss, and gravure coating methods.
Comma reverse coating
In the comma direct coating method, a processing solution is applied directly to paper. On the other hand, in the comma reverse coating method, a processing solution is once applied to rolls and then the processing solution that came out between the rod knife and roll with adjusted clearance is transferred to a paper or nonwoven fabric. This has the advantage that it is possible to apply a certain amount of processing solution accurately.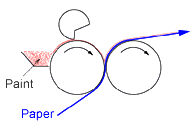 Air knife coating
In this method, one side of a base material treated to prevent liquid from running (sizing process) in advance is kiss-coated with an excessive amount of processing solution and then the excess processing solution is scraped by pressure airflow called an air knife, which is blown onto the coated surface to adjust and make the coating amount uniform. This method is suitable for coating a base material with a rough surface with a low-viscosity solution.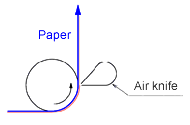 Comma direct coating
This method is a kind of knife coating, and a cutting blade similar to the one used for knife coating is incorporated into a part of the rod. This method is characterized by very high processing accuracy and the capability of processing a solution whose viscosity is as high as several thousand cps. Conversely, a processing solution with very low viscosity requires a viscosity adjustment to prevent leakage. The characteristics of the finished coating surface are that the irregularities on the base material surface are filled to make the coated surface smooth. In addition, this method is suitable for processing expensive chemicals because the processing solution in the pan can be completely used up.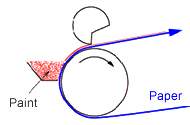 Kiss coating
In this method, paint is lifted up by the drive rolls soaked in the paint pan, transferred to the top roll and then applied to paper that is pressed against the top roll by the press roll.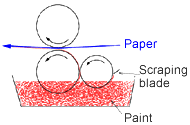 Gravure coating
This paper processing method uses the gravure roll method, which is used for printing. In this method, the processing solution is transcribed to the engraving roll and then transcribed to a base material. The advantage is that changing the pattern and depth of the engraving roll fine-tunes the coating.

Paint …It refers to the overall processing chemicals used for papermaking, such as a synthetic resin solution and emulsion.