Specimen Preparation
We prepare paper specimens in our laboratory to determine the specifications for paper that will meet customer needs.
Disintegrator
This machine rotates the fibers used as raw paper material at high speed in water to break the bundled fibers into single fibers for well-dispersed into water wells.

This type of specimen is used in the protyle test.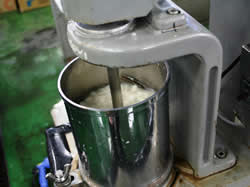 Test beater
This machine beats pulp. Beating pulp swells or fibrillates fibers to increase the surface area, and resulting in an increase in strength when made into paper.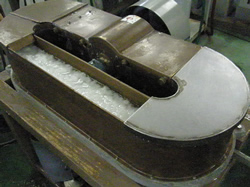 Hand papermaking machine
This device makes raw materials dispersed in water into a sheet. To make the sheet, a mesh is placed on the manual papermaking board and raw materials are dispersed to the square column area of the top of the device. Next, the water is drained from the square column and then the paper material remaining on the mesh is transcribed to another paper.
(Samples of 25cm x 25cm and 55cm x 55 cm in size can be prepared).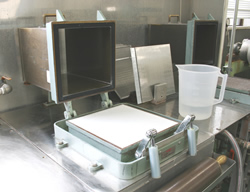 Pressing machine
This device is presses the sheets prepared with a manual paper machine before drying. Applying uniform pressure onto the sheets adjusts the moisture content and the thickness of the sheets.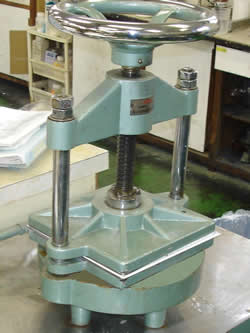 Steam dryer
This device completely dries the sheets made with a hand papermaking machine. The sheet is dried by being placed on a board heated with steam and then held in the canvas with a weight (approximately 100°C).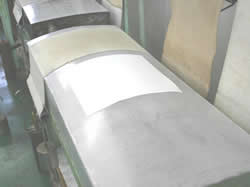 Drum dryer
This device completely dries the sheets made from a hand papermaking machine.
In the same way as actual papermaking machines, this device dries sheets between a rotating heated roll and canvas (around 50°C to 200°C). Touch (three levels)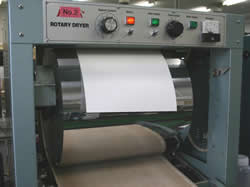 Oven
This device is used to measure the bone-dry weight of sheet and heat-treating (curing) resinated sheets (around 50°C to 200°C).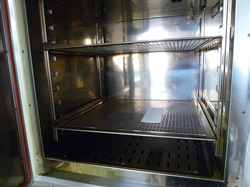 Hot-pressing machine
This machine performs the pressurization treatment under constant temperature.