CARMIX CFRP (Carbon Fiber Reinforced Plastic)
About Our Products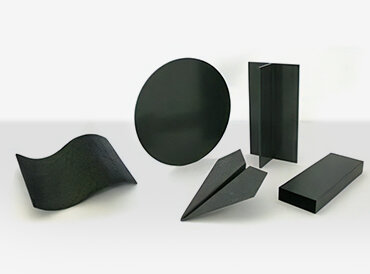 CARMIX CFRP is a product (prepreg) processed from sheets created using our carbon-based material papermaking technology. CFRP (carbon fiber reinforced plastic) is a plastic with carbon fibers in it to increase its strength. CARMIX CFRP is a prepreg, which is a precursor of CFRP, produced by mixing carbon fiber and thermoplastic resin fiber using wet papermaking technology and papermaking process only. By making prepreg in a single process and using carbon fiber (end material), we have realized inexpensive prepreg for CFRP. It is also possible to produce three-dimensional molded products with excellent isotropic strength characteristics in the three-dimensional direction by heat press molding or high-cycle press molding using a die, and the molding cost can be lowered.
Application:

For automobiles
For building materials
For home electronics
For industrial use

Function:

Electricity
High strength
Applications and Achievements
Various lightweight materials such as structural members requiring lightweight strength, fine industrial parts, acoustic materials, etc. *We are currently developing applications and are considering the use of this material in a variety of applications.
Features
Lightweight and high strength
High workability
High yield rate
Maintenance free
Various functions can be added
High shape retention
Lineup
Physical property items
unit
Measuring direction(*1)
Matrix resin
PP
PA6
Tensile strength
MPa
MD
352
421
CD
127
163
クロス
243
293
Tensile elasticity
MPa
MD
27
31
CD
10
10
クロス
20
22
Bending strength
MPa
MD
336
464
CD
172
197
クロス
255
347
Bending elasticity
GPa
MD
26
30
CD
10
11
クロス
19
20
The above data are measured values of typical materials and are not guaranteed values.
(*1)Measurement direction
MD: 1-directional stacked products, machine flow direction
CD: One-directional laminate, machine flow direction x 90°.
Cross: Cross ply laminate