About Raw Materials
We use various types of raw materials, such as fiber, powder, and nonwoven fabric, to manufacture products.
Fibers
We use a wide variety of fibers from plants, animals, regenerated, synthetic, and inorganic. Combining more than one type of fiber creates a product that makes the most of the characteristics of each fiber.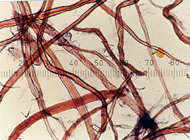 Powders
We use several hundred different types of powder. Settling the powders in paper in a very specific method enables the manufacture of paper products in which the characteristics unique to the powders are best used. Powder can be classified roughly into two categories: organic powder and inorganic powder. In this section, let us introduce inorganic powders.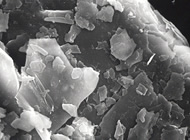 Nonwoven Fabrics
We use various kinds of nonwoven fabrics, such as wet-type, dry-type, and multi-layer nonwoven fabrics. Layering these different sheets by processing enables to create a product that has a specific performance.