Papermaking Technology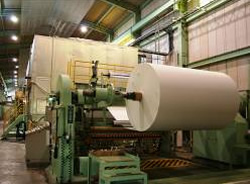 We create products using a wide variety of papermaking technologies, such as high-density, small-lot, density-gradient, sparse and dense, long-fiber, and low-concentration papermaking, as well as powder fixation.
We have cultivated these papermaking technologies since our establishment based on our ability to newly install and improve the equipment according to market needs and to take advantage of the equipment. Let us introduce our technical processes of preparation of raw materials, wire part, and dryer part.
High-density papermaking
Preparing raw materials creates high-density paper.
Small-lot papermaking
We can conduct mass production from as small as approximately 500 kg of raw materials prepared. (It varies depending on the product specification conditions.)
Sparse and dense papermaking
Low-density and high-density paper can be made alternatively on the same paper.
Long-fiber papermaking
Fibers that are up to approximately 10 mm in length, such as synthetic resin, can be used for papermaking.
Low-concentration papermaking
Since raw materials can be used at extremely low concentrations for papermaking, paper with superior dispersibility and uniform texture can be manufactured. Therefore, long synthetic fibers can be used for manufacture.
Powder fixation
Powders can be fixed to the main raw material in papermaking.
This process is coordinating raw materials and chemicals for making recipes of product. It determines the basic paper constituents.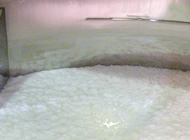 This process is for the first dehydration of raw paper materials to be formed into sheet on the wire.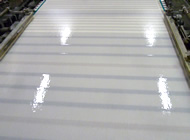 This process is for drying the sheet dehydrated in the wire part.